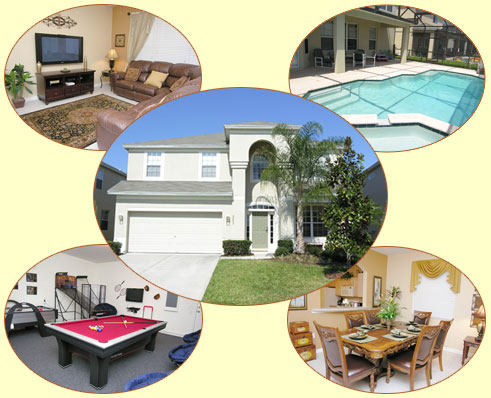 Luxury doesn't begin to describe this waterfront 6 bedroom villa in Windsor Hills Resort. There are villas, and there is the "Executive Villa Experience" you find at Othello Villa in Windsor Hills Resort, Orlando. This Orlando vacation home in Kissimmee is truly in a class of it's own. Othello Villa far outshines other luxury Orlando vacation homes, not only at Windsor Hills Resort but in other resorts as well. 5-star hotels cannot match the lavishness that you find with this rental home, and they certainly cannot compete with the pricing or the spaciousness you find at this 6 bedroom villa in Windsor Hills Resort.

Othello Villa is bursting with extras that will make you want to never leave! This vacation rental home comes fully furnished, of course. All six bedrooms and four bathrooms are lavishly equipped. The beds are extravagant, and each bedroom has it's own wall mounted flat screen TV and DVD. We also provide complimentary international and long distance telephone, as well as high speed internet. The kitchen is also fully furnished. There are even two dining areas, one formal and one informal. The family room says it all though. The coziest double reclining soft leather sofas will keep you snug as you watch a DVD on the wall mounted 50" television or play on the Nintendo Wii that is provided for you. And if that weren't enough, you can always go to the Games Room, where there is billiards, basketball, air hockey, another wall mounted television, a Playstation 2, and metal arcade style dance mat. Truly, the fun doesn't stop at Othello Villa at Windsor Hills Resort!

That is only the inside of the vacation rental home, however. You have to step outside to truly appreciate this jewel in the crown that is Windsor Hills Resort in beautiful Orlando, Florida. We mentioned that this stunning property was a waterfront property, and the view is incredible. The only thing that could possibly make it even more breathtaking is when you take it all in from your very own private, screened in pool and patio area, which includes a spa as well! And that's still not all that you have to enjoy here!

Being part of the Windsor Hills Resort, guests at this 6 bedroom villa can also take advantage of the community and it's amenities. Windsor Hills Resort has little extras like a basketball court, floodlit tennis courts, and a clubhouse with a fitness center. Windsor Hills Resort also contains an Olympic size community pool, as well as a kiddie pool and playground. Windsor Hills Resort also boasts a fifty seat community theater, as well.

You never really need to leave your beautiful 6 bedroom villa in Windsor Hills Resort, but you will want to when you realize that you're only mere minutes away from Disney's front gate, which also places you in the middle of some of the world's finest entertainment, shopping, and dining. There is so much to love here at Windsor Hills Resort. It's the perfect villa in the perfect location at the best prices for an unforgettable trip that you and your family will cherish forever. So come stay with us at Windsor Hills Resort, and see what all the excitement is about!